Ear = Hearing Plus Appearance Bhumkar ENT & Microtia Hospital
Other Special &
Unique Things, At
Dr. Ashesh Bhumkar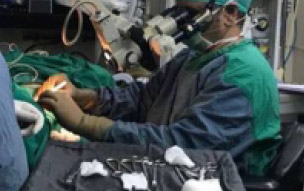 Use of Microscope & Highly sophisticated instruments to ensure microscopic precision of Rib Framework.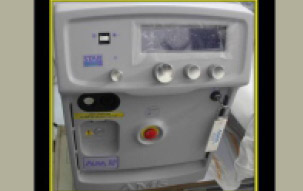 Use of High Tech & Sophisticated LASER (Fiber- KTP Laser) to work on Hearing Chain Repair -This offers highest degree of Safety and enables Maximum Hearing Improvement in all cases.
Use of Special Ossicular prosthesis for maximum hearing.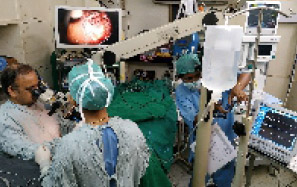 Use of High Definition Camera System & Endoscopes to perform delicate dissection to create the ideal skin pocket for "Best Healing".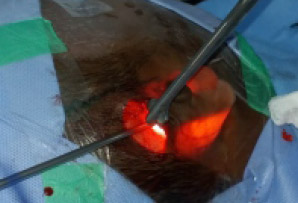 Endoscopes are used to magnify & identify the important tiny blood vessels that supply the skin of the ear.
Use of a Hydro debrider for Skin pocket a High tech , High speed & volume " Jet - Spray" is used to thoroughly rinse the skin pocket and wash the skin pocket with Antiseptic and Antibiotic solutions to "Maximally - Minimise" the Incidence of Infection & Improve wound healing.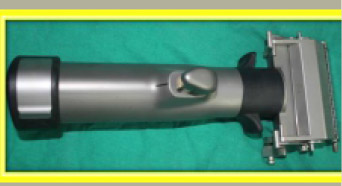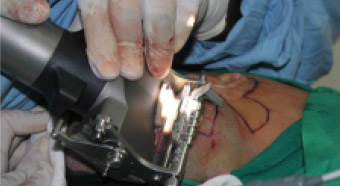 Use of Electric dermatome for best quality of skin graft especially from scalp. This reduces donor site morbidity without causing any hair loss on the scalp.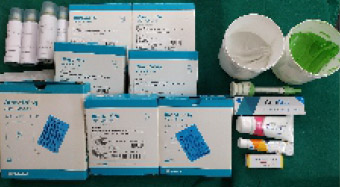 Use of very Special & Evening Wound-Care products to ensure best possible Healing.
Moulds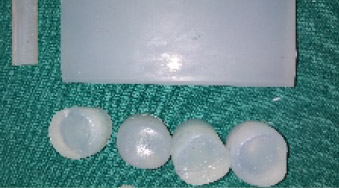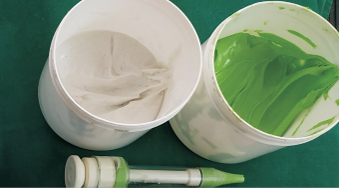 Silicon Moulds & Special moulds to keep the Canal Wide and Patent.
Advanced Studies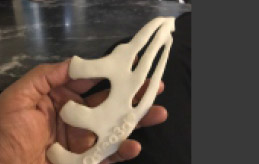 Ct scan study of rib cartilage This helps in Selecting the side for rib harvesting. It gives valuable information on the precise ribs needed.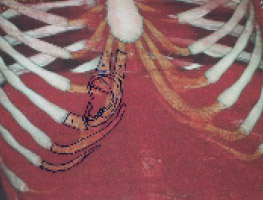 Pre-Op planning of rib framework at its best. 3D model of ribs can be made in cases for better precision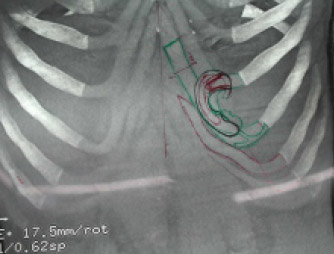 When to do CT scan chest?
CT scan chest is done when circumference is more than 60 Cms
At age 3 months: BERA
no CT scan needed yet older children: Audiogram
Speech assessment (Pronounciation for words)
Get the hearing tested
BERA
AUDIOGRAM
SPEECH ASSESSMENT
Advanced Studies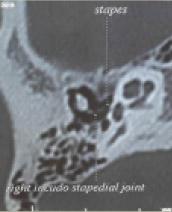 Ct scan of Temporal Bone with a Specially developed protocol to look for Facial Nerve & Hearing Chain (Stapes)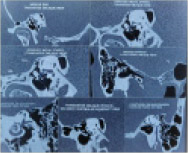 To Rule out Cholesteatoma MRI Scan in very selected case.
Note : In Microtia Please who have no ear discharge, the Incidence of Cholesteatoma is Very Rare. And MRI Scan is to ONLY test to diagnose Cholesteatoma (CT Scan can only Suggest but not diagnose Cholesteatoma)
Special Studies are made to assess the position of the ossicles
(Bones of Hearing).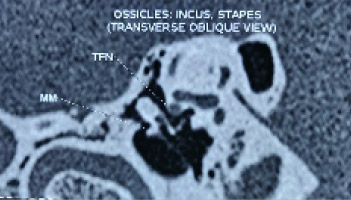 The position of the new canal and more importantly the relationship to the location of the new ear. This Study enables Dr. Bhumkar to do his SINGLE STAGE SURGERY to Improve Hearing & Microtia Repair in almost ALL cases.
3D Print Assisted Microtia Repair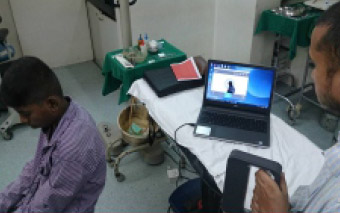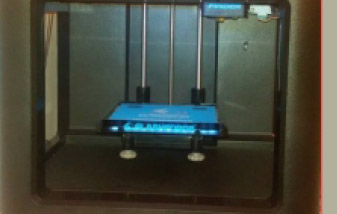 3D Scanning & Printing of Opposite Normal Ear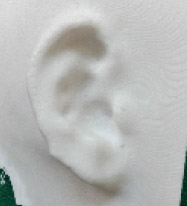 This step adds Finesse and Perfection in surgery to make the new ear look same as the Normal Ear.
Study of Blood
Vessels in the
Microtia Ear &
Region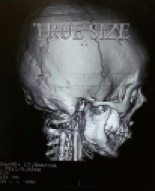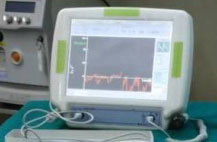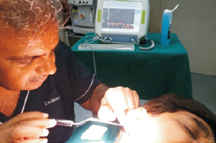 A very High-Tech Doppler (generally used to study Brain & Heart Blood Vessels) is used to map the Blood Supply Network of the Skin of the Microtia Ear. This is most important step of Surgica Planning. At Times CT angiography is done along with High-Tech Doppler Study.
Canal Atresia Repair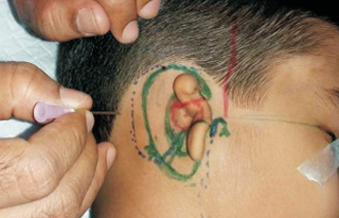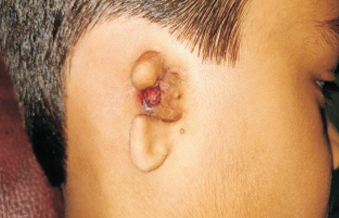 Canal Atresia surgery can be done as Special surgery in children age 4 years or above. The Mastoid Bone develops reasonably well by age 4 and this allows the Facial Nerve to take a " Reasonably Safe Location".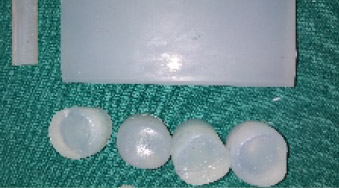 Moulds Silicon Moulds & Special moulds to keep the Canal Wide and Patent.
Facial Nerve Monitor
High Tech facial nerve monitoring is done during surgery to ensure maximum safety.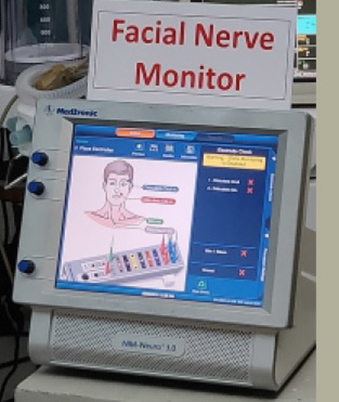 Detailed CT Scan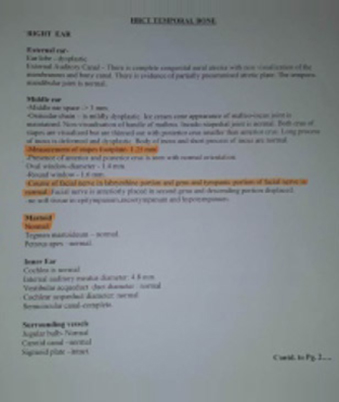 Facial Nerve
A Thorough assessment of facial nerve finding is done, including video documentation.
CT Scans are done to look and study Facial Nerve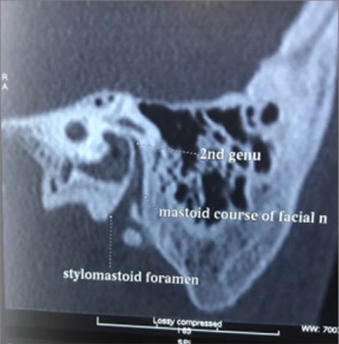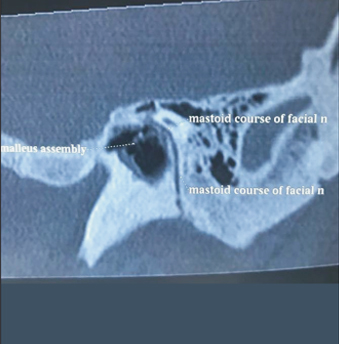 Microtia with Discharge
(Pus 'Liquid from the ear)
This patients need Special attention. The Local Infection in the "Skin pits " (Fistula or Sinus) or rarely Cholesteatoma of ear canal or middle ear needs to cleared first. Surgery for Cholesteatoma is routinely performed by Dr.Bhumkar. The Speciality is that Dr.Bhumkar perform Surgery for Hearing Improvement in the same stage of Surgery.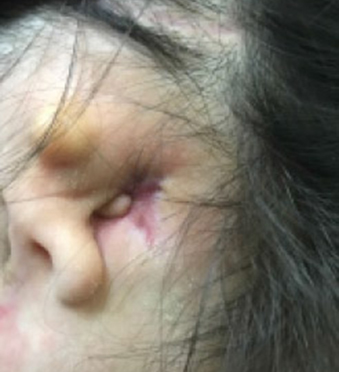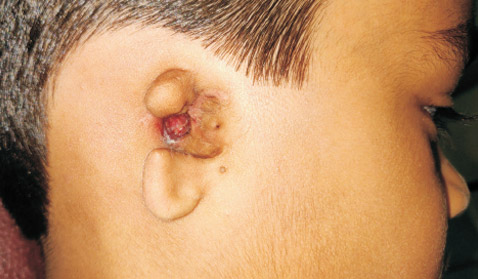 Post Op Care & Counseling
A dedicated team of 3 Doctors & 3 Nurses are highly experienced in Post-Operation care, Wound Care Management & Counseling of the patient. This is an important aspect of Single Stage Surgery for Hearing Improvement & Microtia Repair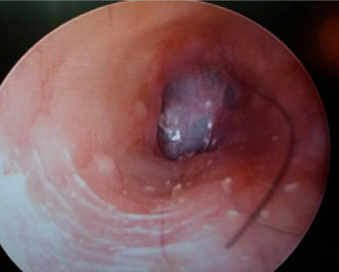 Study of the Jaw Bone
A High Tech T- Scan is done to study the mouth & Jaw Closure.
It Studies the pressures of the bite & the symmetry.This study is needed in patients with Hemifacial Microsomia.